Although registration for the cyclocross program is NOT YET OPEN,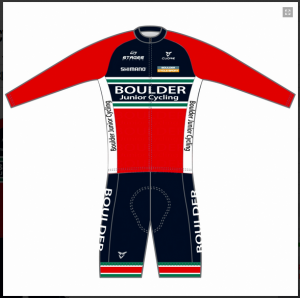 clothing should be ordered SOON because it takes about 8 weeks to be produced. The online clothing store will close at the end of the day on June 24. We expect delivery of clothing items ordered in June in late August.
If you don't know your size, ask your fellow riders what size they use, or contact Cuore (303-557-7120) to arrange a fitting. Sizes are in a European system, and translate roughly to the rider's height in cm.
Clothing must be ordered and paid for on an individual basis directly from the Coure online store. Clothing is not included in our Cyclocross Program fees and there is no inventory of clothing held by BJC.
The clothing for cyclocross is the same as this year's Road and MTB kits and many riders already have the new stuff. However, CX only and new riders will want to get some gear and others may want to get some new cold weather items such as longsleeve skinsuits and jackets.
While the design of the kit has changed, all old BJC kits are still perfectly OK to use for racing and training. All team clothing is optional. Clothing for the Elite Team will be ordered separately.
Another order will be placed in early September if there is enough interest, but those items will take about 2 months to be produced and won't be ready till November. SO NOW IS THE TIME TO ORDER.
Here are the clothing ordering steps:
1) Create an account here:
https://www.cuore.ch/shop/us/create_account.php
Enter the team code BJC2015
3) Then you must logout and log back in. Select "Login to the TEAM SHOP" for the BJC store to appear.
If you already have an account, go to Cuore's US website and click the log in button in the upper right corner.
4) Order and pay for your clothing