To our Cyclocross, Road, & Mountain Bike Teams, Sponsors, Parents & Friends of BJC:
Join Boulder Junior Cycling for the unveiling of the new Boulder Junior Cycling bus and the presentation of our 2014 Road and Mountain bike teams!
Meet Head Coaches Andy Bajadali and Ann Trombley and the Boulder Junior Cycling assistant coaches.
There may also be appearances by some very special guests… Stay tuned for more information as it develops.
When: Thursday, April 24 at 6:15 pm
Where: Valmont Bike Park in the open structure near the East parking lot and Dog Park.
Parking may be limited, over flow parking is available across Valmont (South of Valmont) in the large lot accessible at the Airport Road Light.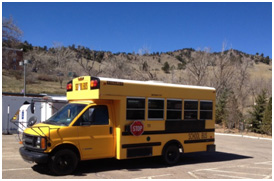 The bus will be open for tours and plans will be unveiled for customization, bike racks and graphics.
Post ride food will be provided for BJC riders who are coming directly from practice.  All riders (yes even all of the Cyclocross specialists – we want everyone to be in the pictures) should be in full kit for press photos.