Bike Swap is Sunday April 3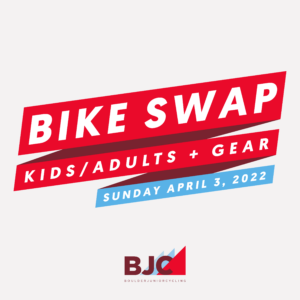 The BJC Bike Swap is coming!
Sunday, April 3, 2022, 1 – 4 pm
Open to the public, all ages, free entry
All bike-related gear (includes adult & kids gear)
Consignment sale (or donate your gear directly to BJC)
BJC Spirit Wear will be available for purchase
Fundraiser for Boulder Junior Cycling, a 501c3 non-profit organization
Want to volunteer? Click here.
Where: Boulder Elks Lodge – 3975 28th St, Boulder, CO 80301
When: Sunday, April 3, 2022, 1 – 4 pm
Seller's must drop off their gear to sell in advance.
Two windows for Seller's Gear Drop Off at Boulder Elks Lodge
Saturday April 2, 4–6 p.m.
Sunday April 3, 10 a.m.–12:00 noon
Unsold Gear Pick-Up: Sunday 4–6 p.m. (after the swap)
How Does it Work?
It's a consignment sale, so sellers drop off their gear in advance and we help you price it and display it at the swap. Buyers can shop on Sunday 1-4 pm only. After the event, BJC pays the sellers for the gear that sold, minus a 25% consignment fee (maximum consignment fee of $300 per item.) People can also donate their gear to BJC and we sell it and keep 100%.