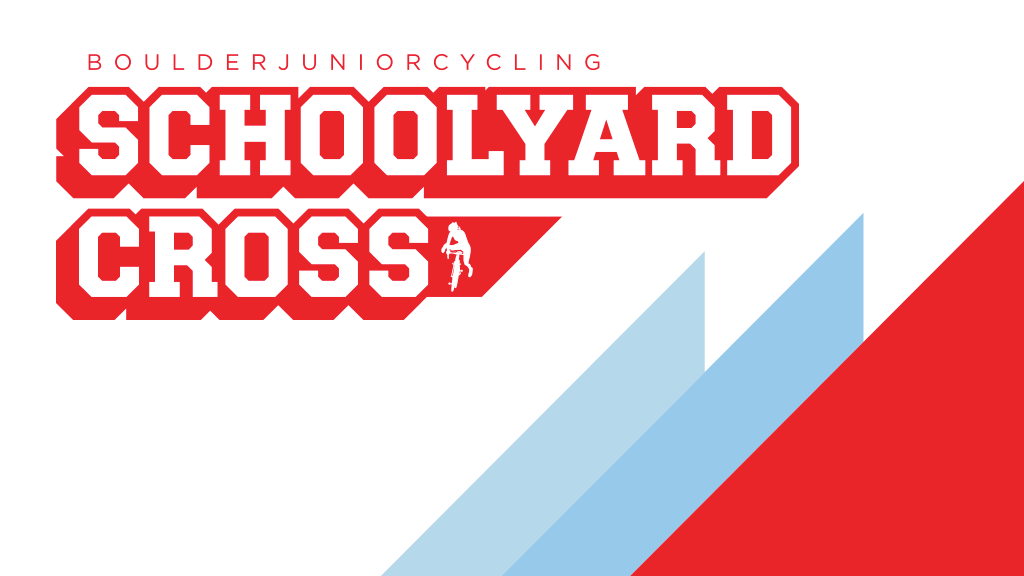 Update: The 2021 version of Schoolyard Cross will be Saturday Oct. 2, 2021.
—
2020 Schoolyard Cross – Sunday, Oct. 25 – Rhyolite Park, Castle Rock
Pre-Race Update Friday Oct. 23, 2020 here.
BJC, in collaboration with our good friend John Haley, is excited to bring you the 12th edition of Schoolyard Cross. This year, the event will be held at Rhyolite Park in Castle Rock. This is a legendary course with a mix of grass, dirt, pavement and just the right amount of technical stuff. Perfect for beginners and experts alike. This is a volunteer-run event with all proceeds supporting Boulder Junior Cycling.
Scroll down for the full list of Covid Precautions and Policies.
Location: Rhyolite Park, 1701 Crystal Valley Pkwy, Castle Rock, CO 80104
Pre-registration ONLY here. Registration on race day is not available.
Registration closes Fri, Oct. 23 at 11:59 pm. Fields limits apply.
Adults: $35, Juniors $20
Questions? Email us. 
Men Cat 4 & 5 reserved for adults only. Cat 4 and 5 junior men are asked to race with juniors, not with adults. Cat 3 & Open categories are open to juniors for those who qualify. Juniors girls may race with any adult categories.
Volunteer sign up to come.
-Scroll down for schedule
-No spectators allowed
-Call ups: 10 minutes before start, based on USA Cycling rankings. Call up lists will be emailed to racers before the event.
-Awards: No awards this year, no podiums
-Weather: Race held rain/snow/shine
-Results: Online at racerite.com, will not be posted on site.
-Chip timed: No chip = last place
-No refunds, no rain checks
-No pre-riding, no pit helpers, no hand ups
USAC License Required: Annual licenses available at www.usacycling.org. USAC 1-Day Beginner license: $10, only for Cat 5 riders who have never previously held a USAC license with a higher category. Must be purchased online, select appropriate event, then click on Purchase One-Day Lic. Bring receipt to race. USAC 1-Day Experienced license: $25, only available to former USAC category 1,2,3,4 and must be purchased online at link above
BRAC membership required ($5 one-day available on site). Annual BRAC memberships available at www.coloradocycling.org BRAC annual membership is required for Cross Cup individual or team point competitions. Not required for out of state athletes
USAC waiver must be signed by all racers or parent/guardian for anyone 18 or under. CX racing age is your age on 12/31/21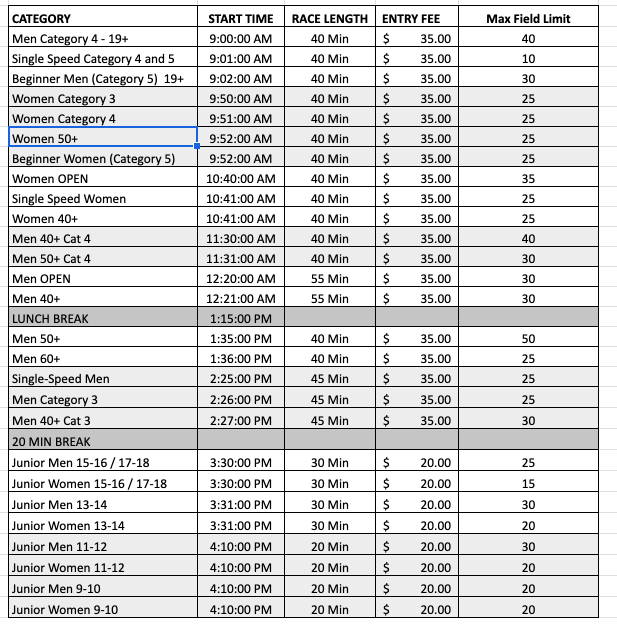 2020 Schoolyard Cross COVID Precautions
Masks must be worn over the mouth and nose at all times, by all attendees. The one exception will be during the race or while sitting down to eat or drink. Race officials will let the riders know when to remove their masks before their start, and all riders must put them back on after finishing.
Participants are asked to follow social distancing practices throughout the venue.
A health check will be required at number pick-up. If you are sick, or know that you have been exposed to the virus, please stay home.
No spectators, please. To help protect all the riders and their families, we want to limit the number of people at the venue as much as possible.
Juniors racing in the afternoon are permitted to have one guardian per family on site, (not more than one please.) Juniors racing in senior categories prior to 3 pm will NOT be allowed to have a guardian or spectators onsite.
No team tents, please.
You are not allowed a pit person. Pitting will be self service. No hand-ups anywhere on the course.
Field limits will be in place.
No food/water/services will be provided. Please be self sufficient.
No podiums or awards will be held.
There is NO COURSE PREVIEW or WARM-UP on course. Exceptions as follows: The course will be set-up the day prior by mid-afternoon. On race day, we will allow preview prior to 8:45 a.m., during the lunch break, and during the 20 min break prior to junior categories. Please respect this restriction as we need to maintain a max number of participants on the course at all times.
Results will be live and available online ONLY at http://racerite.com/results.html We will NOT have printed results at the venue. If there's an immediate protest on your finish place please send an email to Mark@racerite.com and membership@coloradocycling.org
Regardless of your own level of comfort regarding Covid-19, we ask that you adhere to these guidelines while attending our event. Thanks in advance for helping us make this event as safe as possible for everyone involved.
2020 Course Map, Rhyolite Park
Course goes clockwise. (Off-course start is located in lower right on map, not shown.)