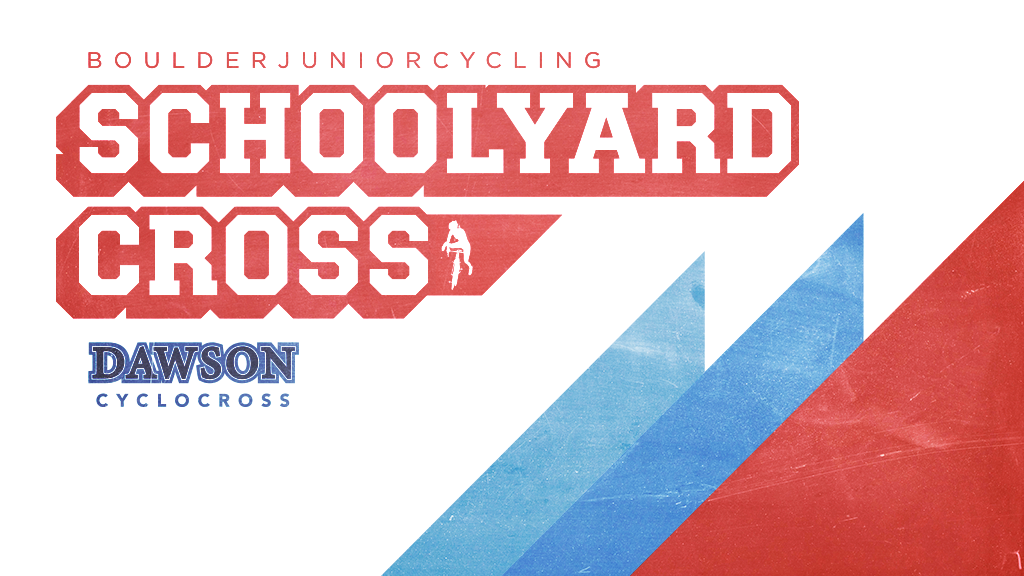 2019 Schoolyard Cross – Saturday, Oct. 19
Hosted by Boulder Junior Cycling and the Dawson School Cyclocross Team
Pre-register for the race here. 
Free Women's Clinic and BBQ Wednesday Oct 16 2019 at 4:30 p.m. (Details)
Colorado's Best Race for Beginners!
All proceeds support junior cycling
Free entry for juniors and first-time women
We'll pay the one-day license fees for never-ever first timers
Neutral race support provided by Full Cycle
Located at the beautiful Dawson School campus just off Hwy 287, this is a fun course with a mix of grass and pavement and just the right amount of technical stuff. Perfect for beginners and experts alike. This is a volunteer-run event with all proceeds supporting Boulder Junior Cycling and the Dawson School Cyclocross Team.
Activities:
– Under 9 Pre-J Race FREE (waiver req'd)
– French Twist Food Truck
– Pablo's Coffee Truck
– Bake Sale
– Face Painting
– Pumpkin Decorating
– Kids Crafts
– Pedal-power Cider Press
– Donuts!
– All proceeds support junior cycling
Introducing the Get off the Couch Relay Race!
Get off the coach and try racing! Any bike, any rider, any ability
FREE to all (waiver req'd)
No pre-registration, just sign up at the race
Fun race, no results
4-laps, teams can be 1 to 4 riders
Women's Clinic and BBQ Wednesday Oct 16 at 4:30 p.m. (Details)
Club Row: Sign up on this Google Doc to reserve team space on club row! No Glass Allowed.
Volunteers Needed! If you'd like to help with the event, please sign up here.
Course Map: Scroll down.
DIRECTIONS
Alexander Dawson School, 10455 Dawson Dr, Lafayette, CO 80026. Located on Hwy 287 between Longmont and Lafayette. Here's a map. 
REGISTRATION
Pre-Registration: closes Thur, Oct. 17 at 11:00 p.m. MST
Adults: $35 ($15 per additional race)
Juniors: FREE in Junior categories or $15 in Senior categories (pre-reg required, code: jDev2019)
No one-day license fees for never-ever first timers! Use code: 2018Newbie
Race-Day Registration: opens at 7:00 a.m. closes 40 minutes prior to start
Adults: $40. Juniors: $10 in junior categories or $25 in Senior
Pre-J FREE (under 9)
We'll pay the one-day license fees for never-ever first timers! Don't pre-register, just come to the registration table on race day. Race entry cost will be $35 for adult men. If you are a woman, we'll also cover your race entry fee!
CALL UPS: 10 minutes before start, based on USA Cycling rankings
RACE RULES: All USAC Rules Apply.
AWARDS: $500 Men Open, $500 Women Open, all other categories merchandise. Must be present at podium to receive award.
Annual licenses available at www.usacycling.org. USAC 1-Day Beginner license: $10, only for Cat 5 riders who have never previously held a USAC license with a higher category. Must be purchased online, select appropriate event, then click on Purchase One-Day Lic. Bring receipt to race. USAC 1-Day Experienced license: $25, only available to former USAC category 1,2,3,4 and must be purchased online at link above
BRAC membership required ($5 one-day available on site). Annual BRAC memberships available at www.coloradocycling.org BRAC annual membership is required for Cross Cup individual or team point competitions. Not required for out of state athletes
USAC waiver must be signed by all racers or parent/guardian for anyone 18 or under. CX racing age is your age on 12/31/20
Course preview available only while Green flag is flying. Preview riders must bypass finish line and respect the ongoing race. Races will not be re-scheduled due to inclement weather. Field Limit: 125 per wave.
Questions? Contact info@boulderjuniorcycling.org
Race Categories and Schedule: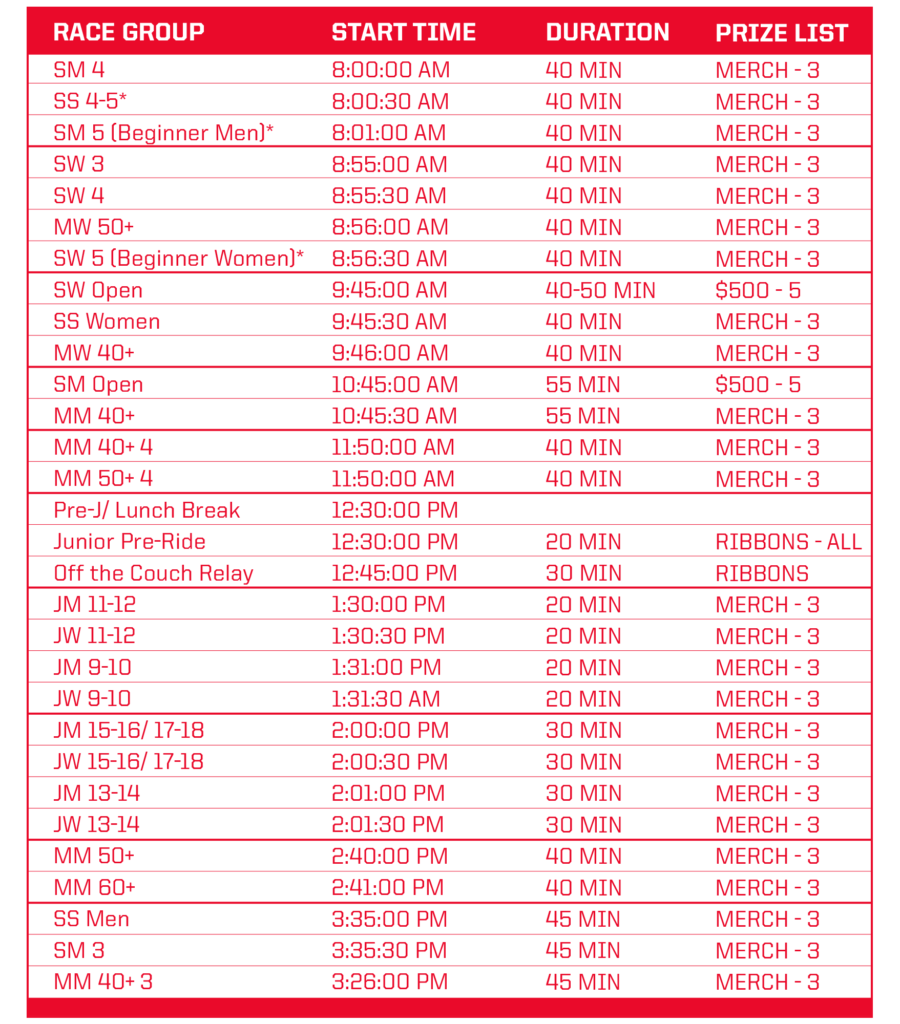 Course Map: