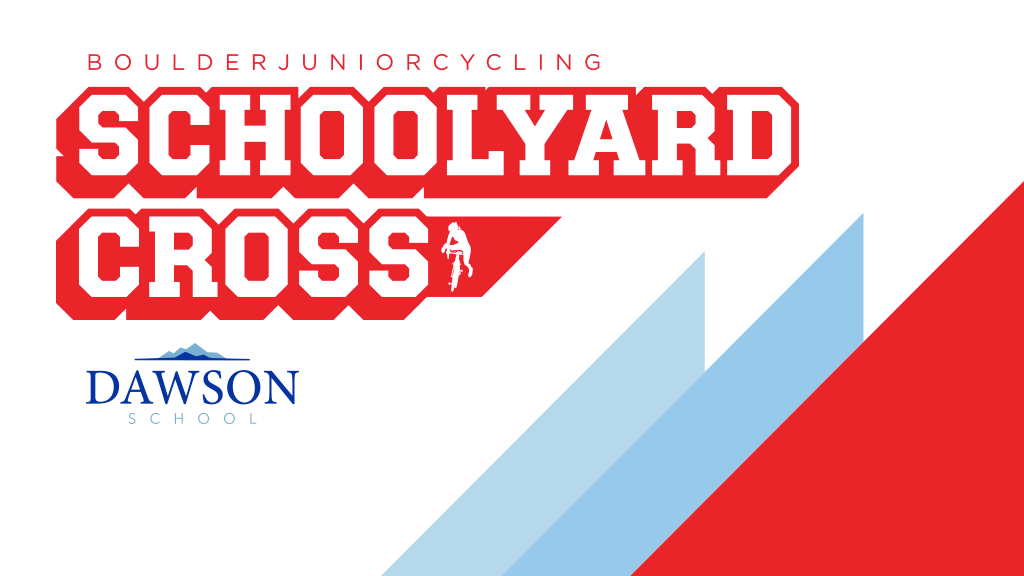 The 2022 Schoolyard Cross will be held Saturday, Oct. 1
(Stay tuned for 2022 details (info below is from last year 2021.)
2021 – 13th Annual – Colorado's Best Race for Beginners!
Free entry for juniors and first-time women (pre-registration only)

We'll pay the one-day license fees for first-time women (junior licenses free here)
Neutral race support provided by Trek Store Boulder

Mountain bikes are welcome!

Harvest Festival

All proceeds support junior cycling
Schedule: Scroll down
Course: New start/finish location and epic new stair run-up! Scroll down for map. This is a fun course with a mix of grass and pavement and just the right amount of technical stuff. Perfect for beginners and experts alike.
Location: The beautiful Dawson School campus on Hwy 287 between Longmont and Lafayette. 10455 Dawson Dr, Lafayette, CO 80026. Here's a map. 
Pre-Registration closes Wed. Sept. 29 at 11:59 pm MST.
Race-Day Registration: Pre-registration is encouraged but onsite registration ($5 extra) opens at 7:00 a.m. closes 40 minutes prior to start (Entry fee higher on race day)
Fees:
Adults: $35 ($40 on race day) ($15 per additional race)

Juniors: Free for u18 (must pre-register) ($20 on race day)

First-time women: Free (just go to registration onsite on race day, don't pre reg)

Coupon code for juniors entering adult cat. 3 or higher:

sycjunior

Pre-J event for age 6-8 is free, just go to registration onsite to sign a waiver (no registration needed)
Events Notes:
Cat 4 & 5 reserved for adults only.

Junior girls and boys are asked to race with their correct age group, not with adults. (Contact us if you need an exception.) Cat 3 juniors may race with the Cat 3 adults or Open category.

CX racing age is your age on 12/31/22

Pre-J event for age 6-8 (actual age) at 11:55 am, just go to registration onsite to sign a waiver (no registration needed)

Course preview available between each wave.

No refunds. Contact us with questions.
COVID Precautions:
Masks are required indoors.

If you are sick, or know that you have been exposed to the virus, please stay home.
Activities:
Pre-J Race, a non-competitive event for age 6, 7, and 8. (Actual age not Cyclocross Race Age

, just go to registration onsite to sign a waiver (no registration needed)

Food Truck

Bake Sale

Face Painting

Pumpkin Decorating

Kids Crafts

Pedal-power Cider Press

Donuts!

Here's a fun video:

A Day at Schoolyard Cross
Additional Sign Ups:
Reserve team space on club row.
Sign up to bring items for the Bake Sale.
Women's Clinic details and sign up here.
–
CALL UPS: 10 minutes before start, based on USA Cycling rankings
RACE RULES: All USAC rules apply.
AWARDS: $500 Men Open, $500 Women Open, all other categories merchandise. Must be present at the podium to receive an award.
PARKING: On site.
LICENSES:
USA CYCLING: You must have a USA Cycling license to race. Annual licenses available at www.usacycling.org. Junior licenses free here. 1-Day Beginner license: $10, only for Cat 5 riders who have never previously held a USAC license with a higher category. Must be purchased online, select appropriate event, then click on Purchase One-Day Lic. Bring receipt to race. USAC 1-Day Experienced license: $25, only available to former USAC category 1,2,3,4 and must be purchased online at link above
COLORADO CYCLING: BRAC membership required ($5 one-day available on site). Annual BRAC memberships available at www.coloradocycling.org BRAC annual membership is required for Cross Cup individual or team point competitions. Not required for out of state athletes.
USAC waiver must be signed by all racers or parent/guardian for anyone 18 or under. 
Questions? Contact info@boulderjuniorcycling.org