Rider Diary: Eric Brunner from Tour de l'Abitibi
August, 2016 -The Tour de l'Abitibi is a junior stage race taking place in Quebec, Canada, and is one of the biggest junior-level races in North America.
As my first full-length stage race, I wasn't sure what to expect from the Tour de l'Abitibi. I raced the Tour of America's Dairyland in June and with five criteriums in five days, it was one of the hardest weeks of racing that I've done. The last couple days, could feel each previous race in my legs when the pace quickened. Abitibi was not what I expected in that I was able to recover well each day and the two plus hours of racing each day did not cause the same accumulation of fatigue as Dairyland. I rode for the composite team Washington Spin, along with Kevin Goguen, Josh Anderson, Paul Hartner, Ian Clarke, and Dylan Cantrell.
The first two stages, the longest at 113km and 116km, both finished with three 3.7km circuits around the university where we stayed. During the first stage, I only ate two gels, causing me to crack on the last circuit and lose just under a minute of time. For the second stage, I was careful to consume enough calories and felt much better. I was positioned inside the top 10, but crashed when another rider swerved with two laps remaining, hitting my bars with his hip and taking us both into the asphalt. I got up as quickly as possible and finished with a loss of two and a half minutes. At this point, my hopes of a high GC finish were over.
In the stage 3 time trial I finished 62nd.
Stage four was in the afternoon and I expected the real attacks to start after the GC had settled a bit during the time trial. In a downpour that reduced visibility to maybe a few hundred meters, he U.S. and Danish national teams set a blistering pace and the stage finished with an average speed of 49km per hour. I finished tenth on the stage in a downhill sprint.
Stage five was a turning point in our tour. Despite having to chase early after a road-blocking crash split the field, I lead Kevin out to a two second time bonus that tied him for the best young rider, then helped our sprinter Josh at the front during the final 15km. I was popped on the last steep riser before the line inside 800m, but Josh won the stage.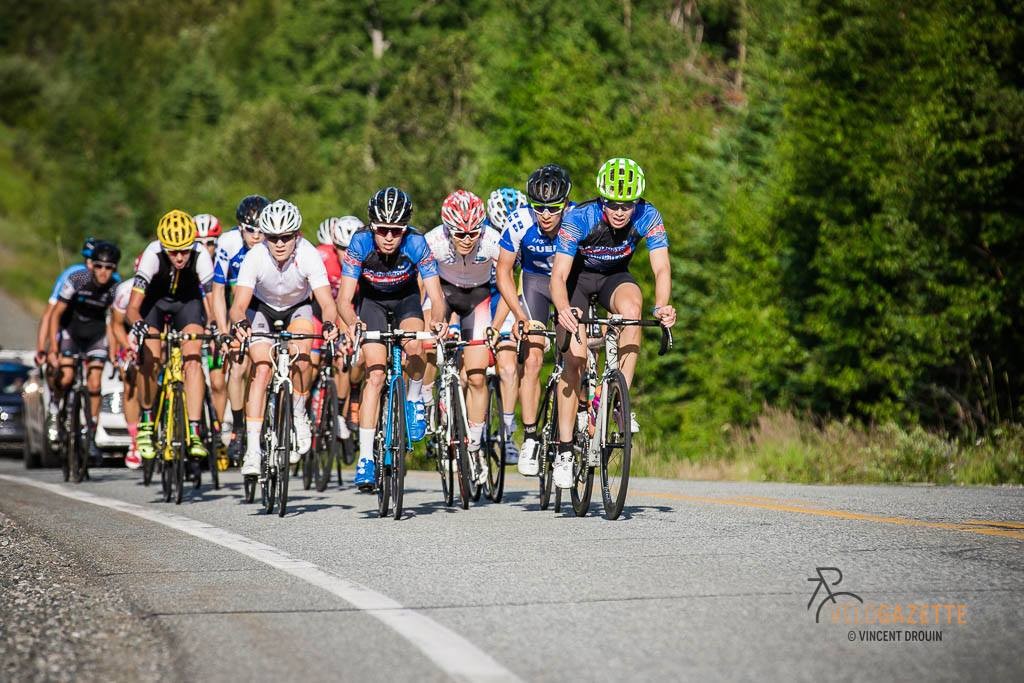 Stage six played out very unexpectedly. The field began to accelerate and splits formed before the 10km mark in anticipation of an early intermediate sprint. I was one of the last riders in the lead group, joining my teammate Ian, and we gained a gap of around 20 seconds by the sprint. Most riders in the group chose to act on the split and began rotating. In another 10km we had a 45 second gap and it was clear that the 20-man break had a legitimate chance at the win. With some encouragement, everyone took their turns at the front. With 25km remaining in the stage we held a gap of just under three minutes. A game of cat and mouse ensued in the three finishing circuits with most riders wanting to contest the sprint. Despite the disorganization towards the end, the break finished a minute and a half ahead of the field and I was 11th. Unfortunately, Kevin lost the young rider's jersey, but Ian moved up to eighth place on GC.
As we expected, the pace was hard from the gun on Sunday. Kevin got into a break early with Brandon McNulty, who was hoping to regain his overall lead, and two other riders. One dropped back, but the rest of the break stayed away due to its strong riders and a lack of organization in the peloton. Both McNulty and Kevin regained their respective overall and young rider titles, with Kevin taking third in the stage.
Overall, the tour offered a lesson in resilience, with so many things able to go wrong in moments; and in focus, with the number of tasks that a 600km stage race requires attention to. After a tough first couple days, I rode intelligently and aggressively for myself and for the team. I hope to build on my experience for stage races that I do in the future. It is one thing to keep your mind on track in a 40 minute criterium, but it is entirely different to focus for a two and a half hour race every day for six days. Where to ride in the pack, when to spend energy and when to conserve, watching for the breakaway, and eating enough are all considerations for those two and a half hours. When you step off the bike, even if you have all of your chores taken care of by someone else, you must eat well and consume enough, make sure you sleep enough, and continue to take care of your body before the next stage. However, there was still more for me to think of. I had to prepare my own food between meals, maintain my own bike, and wash my own clothes by hand. Stage racing begins long before you line up the first day and doesn't end until you cross the final finish line.
Many thanks to the composite team Washington Spin, BJC and our sponsors Giant Bicycles, SRAM, Boulder Cycle Sport, Cuore, Clement, Training Peaks, and many others.
By Eric Brunner