Rider Diary: Road Nationals 2011 by Cade Bickmore
Last month I participated at the USA Cycling Road National Championships in Augusta, Georgia in the Junior Men 13-14 along with teammate Jacques de Curnou and my brother Torin who raced in the Junior Men 10-12.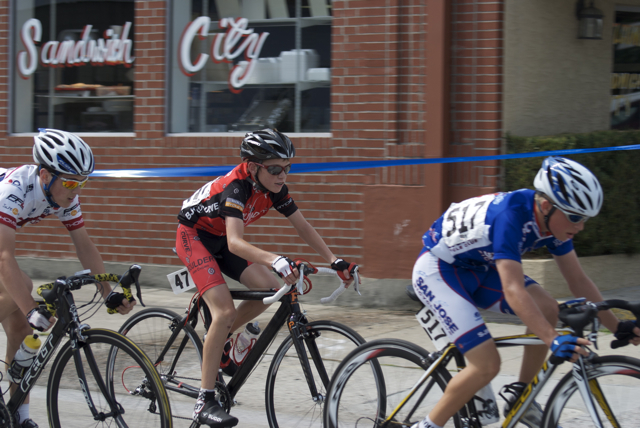 We drove out there so we could bring our camper trailer and a lot of bikes. Jacques and his family drove out separately. -We left at 9:00 pm on June 19 on our 30 hour drive. -We took some breaks along the way including a stop in St. Louis where we got to see the Arch both at night and in the morning and got to go in it. -It was pretty cool, and at night it had lights shining like spotlights in a way that made a cool shadow in the air (yeah, that is how humid it was). -Finally after 28 hours of driving and being on the road for 2 and a half days we arrived in Marietta, Georgia at a friends house where we stayed the night then left at about noon the next day where we made the final 1 and a half hours of driving to get to Augusta.
It was now Tuesday the 22nd, the day before the first race. -First thing we did was go to packet pick-up to get our numbers and all the other stuff in the packet. -It was very hot (and not to mention humid) and I was not looking forward to pre-riding the course which was what we did next. -The Road Race course was on the army base and we could not figure out how to get to it and luckily we took enough time finding it that storm clouds started to roll in front of the sun which cooled it down considerably. -My Dad, Torin and I took one lap on the 10k road race course and practiced the final turn and sprint section a couple of times and finished just before the storm rolled in. -We then went to find somewhere to sleep to rest up for the three big days ahead.
The next morning I awoke early, and we drove to the course. -I had a lot of time to kill because we got there an hour before my brother's race and my race was a couple hours after his so I sat in a fold up camping chair with my feet up on another one for the better part of 2 hours. -Then it was time for me to start my warm-up. -I did my regular routine of intervals and it was finally time to race. -Our start was vicious for the first 10 or so seconds but everything settled down after that and we came around the first corner as a group. -An attack was launched up the first climb after that corner but it was quickly covered and we raced down the following descent as a group. -Being on junior gears, everybody was spun out so nobody was able to go any faster than the group. -As we approached the end of the descent and the start of the next hill people started pedaling quickly, so as soon as they could get resistance on the wheel they would be going and as we started up the hill a couple people went off the front spinning as fast as they could, but as the hill progressed the group caught back on. -By this point, only a couple of people had fallen off. -We now approached the sharp nearly 180 corner and everybody slowed way down. -Luckily there were no crashes that I new about. -Now, we were on the flat section of the course and nobody attacked and we just cruised along as a group. -We rounded the corner onto the finishing stretch and got -2 to go- from the announcer – Boulder's own Dave Towle. -The next lap was a repeat of the first until mid-way through the flat section where someone started to push the pace and then moments later there was a large crash which caused the amount of people in the main group to half, since a lot of people went down and many more got stuck behind it. -I was able to catch a wheel and get pulled up back to the main group. -The group now turned the final corner and got the bell for one lap to go. -On the hilly part of the course, attacks were flying and many people fell off the group, but there were no breakaways. -Then, on the flat portion we slowed way down because nobody wanted to work. -I started to move up on the right side of the road, which was the inside of the final corner. -I realized that I would be cut off so I dropped back and moved to the left side, but I wasn't able to move up very much before the corner, so I wasn't in great position. -After the corner, the sprint was engaged, but I just sat in because I knew it was like 400 meters to the finish. -At about 100 meters to the finish when I was starting my sprint there was a crash on the right side of the road and I saw a bike fly up higher than my head. -I was now sprinting to get away from there not so much as to get to the finish. -I ended up in 12th, which is pretty good for me considering I am not a sprinter. -After the race I talked with a local racer and friend Gage Hecht and he said that the bike nearly hit him. -I was lucky I decided to change to the left side of the road before the corner. -After the race we went and found a camp ground in South Carolina because the start of the next day's Time Trial was actually just over the South Carolina border.
The next morning I had the chance to sleep in because my start time was not until the late afternoon, so I just chilled until race time. -About noon, some storm clouds rolled in and by one o'clock it was really pouring. -We thought the race might be canceled because there was a lot of lightning, and it was still pouring at four o'clock but we drove over to the start anyway. -It was not canceled, so I got on the trainer and started warming up. -About 30 minutes before my start, the rain began to stop and by the time I went over to the start, the sun was out again and it was drying up. -I got to the chute for lining everybody up and they called my number so I went in. -They rolled my bike out to make sure I was within the gear limits and it was fine. -I waited for a little while, and finally it was 30 seconds until my start. -I got to the start line and clipped in. -The starter counted down -five, four, three, two, one, go!- and I was off. -I got into my aero position as soon as I was up to speed and kept going. -I was going across the dam on the border of South Carolina and Georgia and since it was a dam it was pretty flat. -I was going hard but thinking back on it I don't think it was hard enough. -I caught someone at the edge of the dam. -I caught another person. -I could now see the turn around point and I was approaching four riders. -I got around them before the turnaround. -I went around it safely and got back up to speed. -It was now mostly downhill while going out was uphill. -I was holding about 30 or 31 MPH. -I was flying (or so I thought at the time). -I was back on the dam drilling it towards the finish. -I crossed the line but when I got there I new I didn't go hard enough. -It made it hard being so short. -It was only a 10k course! -10K is for running not biking. -I went for a cool-down then came back to see if results were up but they weren't so I waited for a little bit with Jacques until they were up. -I looked through them once then again and I didn't see my name so I went and protested. -They got it all sorted out and I ended up in 28th, which was not what I was hoping for but I hadn't practiced really short time trials so I guess I did well since I hadn't practiced -short time trials and there were 76 people or something like that in the race. -I headed back to the campsite disappointed knowing that there was still another race the next day. -I got to sleep early and hoped for a better result in the criterium.
The next day I woke early again to get to my brother's race and had a lot of time to kill. I again sat with my feet up in the shade. -Eventually it was time to warm up, so I got on the trainer and did my routine. -I got to the start chute and realized that I would not have a good starting spot. -After the next race was done we lined up at the start line. -I was in the back row which decided my race for me. -The ref blew the whistle and I had to wait for everyone in front of me to get going and by the time I had crossed the start line the leaders were already around the first corner. -I fought my way through the field but it was hard moving up through all of the corners. -I could not get up to the group. -The last two days of racing had taxed my legs and I did not have the energy to get up there. -I got in the group and we were sitting at about five seconds from the group ahead, but we just could not close down the gap. -Then coming down the back stretch one lap I noticed there was a split in the field and I knew even if we caught on, we would still probably not make it into the lead group. -I kept fighting, but we were fading, and finally the moto came up to us, indicating that we were going to be pulled. -I don't think the other two kids understood, so I just acted casual and I was coming through for my rotation anyway so I crossed the line first in my group but it ended up not mattering because we just got DNF.
This Nationals didn't go as well as I wanted but I guess it was OK. -None of the other local Colorado 13-14 age group racers got better than 12th, so I got the best place, but I really wanted top 5 or at least top 10. -There's always next year and there is always room for improvement.
Thanks for reading – Cade.