Race Report – Rumble at 18 Road & Battle of the Bear
BY Johanne Albrightsen
My first race this season was the Rumble at 18 road in Fruita. I pre-rode the course with the team on Saturday. It was beautiful and sunny, little did we know that the weather would shift for the race on sunday. The next morning I got up early to eat and go watch everyone race, I didn't race until the second wave of starts at 11. I arrived at the venue in the pouring rain and saw racers and bikes covered in mud. I watched a couple of my teammates finish in need of a good shower and then headed out to warm up. After about 40 minutes of my warmup another racer mentioned to me that the women's starts had been delayed an hour. I put my legs up in the car for a while and then headed out to warm up again. By the start of my race the rain had cleared up and it was hot and sunny. The regular course was torn up and muddy so I had to race on the 10 and under course. The course was mud free but a little boring since it was just on fire roads. It was a fun race and I was one of the lucky few who didn't get covered in mud.
Here are some pictures of BJC riders at the Fruita Race – Thank you to those of you who posted photos to the BJC Smug mug web site! Here they are!
Lina – BJC Mudder                                                                                                       A pretty muddy affair–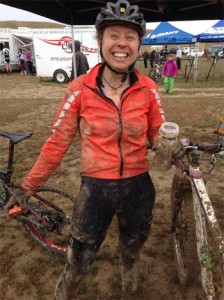 \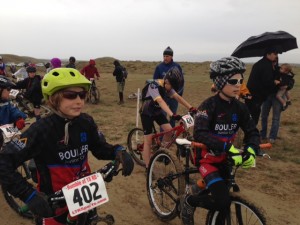 Battle of the Bear
The next race I participated in was the Battle the Bear race in Lakewood. I raced last year and was excited to ride at Bear Creek lake again. I felt much faster this year and was happy with how strong I felt on the climbs. Since the course is pretty flat I was able to lock out my suspension for the majority of the race. The lock out feature is one of the many things I love about my new Scott Spark! After the race I hung out with teammates, ate and waited for awards. It was a beautiful day for a race and the atmosphere at the venue was really fun!